31 July 1970: the Royal Navy ends daily rum ration
One of the Royal Navy's most popular traditions came to an end on this day in 1970 when the last of the rum ration was doled out.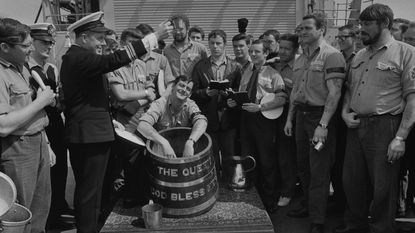 (Image credit: © Evening Standard/Hulton Archive/Getty images)
Until the 17th century, sailors in the Royal Navy were given a daily beer ration of five pints, partly to compensate for the harsh physical demands of life on board, and partly because ordinary water quickly spoiled.
However, the growth in long-haul voyages made even beer impractical, so it was gradually replaced with a half-pint of the newly discovered rum. Rum's much higher alcoholic content (58%-95% versus 5%) meant it lasted longer, and far smaller quantities were needed to produce the same level of inebriation.
This kept morale up. It also meant sailors were frequently drunk. To preserve order on board, and ensure that sailors were fit for duty, punishments for outrageous drunkenness were severe, including public flogging with a braided rope known as the 'cat-o-nine tails' (only banned in 1879).
Subscribe to MoneyWeek
Subscribe to MoneyWeek today and get your first six magazine issues absolutely FREE
Get 6 issues free
Sign up to Money Morning
Don't miss the latest investment and personal finances news, market analysis, plus money-saving tips with our free twice-daily newsletter
Don't miss the latest investment and personal finances news, market analysis, plus money-saving tips with our free twice-daily newsletter
In 1913, the then First Lord of the Admiralty, Winston Churchill, famously said that the chief traditions of the Royal Navy were "rum, sodomy and the lash". Sailors who declined the ration were paid nine pence (roughly £3.63 in today's money).
Over time the ration was scaled back. In 1740 it was diluted to produce "grog", with the ration split into two servings. In the 19th century it was cut to the equivalent of a quarter of a pint (1823), then an eighth (1850). The reduction in physical labour and the need to be sober while operating complex machinery meant the "daily tot" was finally phased out in 1970.
Today, all Royal Navy sailors must be under the drink-driving limit while on duty, while some personnel (such as those operating weapons) are effectively banned from drinking alcohol.
Matthew graduated from the University of Durham in 2004; he then gained an MSc, followed by a PhD at the London School of Economics.
He has previously written for a wide range of publications, including the Guardian and the Economist, and also helped to run a newsletter on terrorism. He has spent time at Lehman Brothers, Citigroup and the consultancy Lombard Street Research.
Matthew is the author of Superinvestors: Lessons from the greatest investors in history, published by Harriman House, which has been translated into several languages. His second book, Investing Explained: The Accessible Guide to Building an Investment Portfolio, is published by Kogan Page.
As senior writer, he writes the shares and politics & economics pages, as well as weekly Blowing It and Great Frauds in History columns He also writes a fortnightly reviews page and trading tips, as well as regular cover stories and multi-page investment focus features.
Follow Matthew on Twitter: @DrMatthewPartri