28 August 1837: Lea & Perrins begins making Worcestershire sauce
On this day in 1837, Lea & Perrins started to manufacture its famous Worcestershire sauce for sale the following year.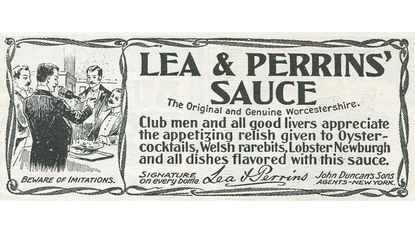 (Image credit: © Jay Paull/Getty Images)
Worcestershire sauce is without doubt one of Britain's greatest gifts to world gastronomy (second only, perhaps, to Henderson's relish). For a sauce that is as much a symbol of Britishness as it is a condiment, it's fitting that its origins are somewhat shrouded in legend. And indeed, the creation story behind Worcestershire sauce is a colourful one.
Sometime around the mid-1830s, so the story goes, Lord Sandys returned to Worcestershire from Bengal, where he had served as governor. Finding the local palate a little bland for his exotic tastes, he dug out an old recipe he'd brought back from India.
It says a lot about 19th century British attitudes to cooking that Lord Sandys took his recipe not to a cook, but to a pair of chemists. Showing Mr John Wheeley Lea and Mr William Henry Perrins the recipe, he asked them to whip up a batch. Lea and Perrins replied that they'd give it a whirl.
Subscribe to MoneyWeek
Subscribe to MoneyWeek today and get your first six magazine issues absolutely FREE
Get 6 issues free
Sign up to Money Morning
Don't miss the latest investment and personal finances news, market analysis, plus money-saving tips with our free twice-daily newsletter
Don't miss the latest investment and personal finances news, market analysis, plus money-saving tips with our free twice-daily newsletter
When Lord Sandys returned to try the concoction, he found the results disgusting. Lea and Perrins shrugged it off and left the jars of Worcestershire sauce to sit in the cellar, gathering dust.
A couple of years later, the bottles were rediscovered during a spring clean. The jars were on the point of being tipped out when Lea and Perrins gave in to their curiosity and gave the foul liquid another taste. The sauce, they found, had mellowed in flavour and was delicious.
Another version of the story has Lady Sandys in need of some curry powder. A visiting novelist with India connections gave her a recipe, which she handed to Lea and Perrins to make up. Someone along the way had the brainwave of adding water to the powder and making it into a sauce.
Either way, Lea & Perrins Worcestershire Sauce became a huge success. On 28 August 1837, manufacturing of the sauce began, and the first bottles went on sale the following year. And it wasn't just a hit in Britain. Boatloads of the stuff were shipped off to America and across the Empire reminding many a far-flung Briton of home.
Chris Carter spent three glorious years reading English literature on the beautiful Welsh coast at Aberystwyth University. Graduating in 2005, he left for the University of York to specialise in Renaissance literature for his MA, before returning to his native Twickenham, in southwest London. He joined a Richmond-based recruitment company, where he worked with several clients, including the Queen's bank, Coutts, as well as the super luxury, Dorchester-owned Coworth Park country house hotel, near Ascot in Berkshire.
Then, in 2011, Chris joined MoneyWeek. Initially working as part of the website production team, Chris soon rose to the lofty heights of wealth editor, overseeing MoneyWeek's Spending It lifestyle section. Chris travels the globe in pursuit of his work, soaking up the local culture and sampling the very finest in cuisine, hotels and resorts for the magazine's discerning readership. He also enjoys writing his fortnightly page on collectables, delving into the fascinating world of auctions and art, classic cars, coins, watches, wine and whisky investing.
You can follow Chris on Instagram.